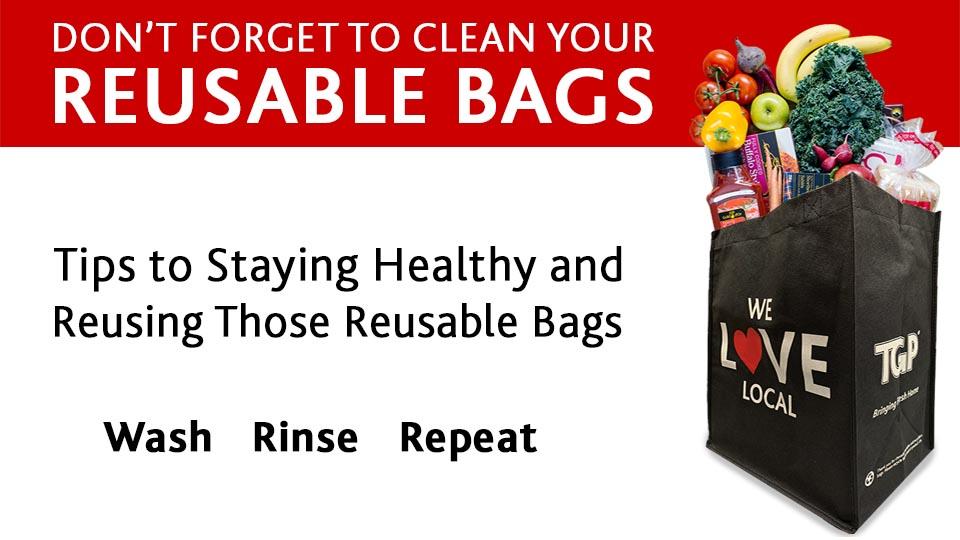 Earth Day 2021
April 21, 2021
This Earth Day, TGP encourages all our customers to give new life to your reusable bags by giving them a good spring cleaning. Not only that, but studies have also shown that reusable bags should be cleaned more frequently than you thought. Every leaky milk, squashed tomato and flecks of onion skin all contribute to the growth of mold and bacteria like E. Coli.
Simply washing reusable bags, even in cold water, is 99.9% effective to removing bacteria. Plus, you're doing the world a favour by keeping plastic out of landfills.
So roll up your sleeves, throw on a pair of rubber gloves and in just 15 minutes you'll have a clean stack of bags ready for your next grocery run.

Know the Material You're Working With
Certain synthetic materials need different levels of care and attention. Many bags are durable but few are machine washable. Best to check the tag so you know what you're working with.
Canvas and cotton bags can turned inside out and thrown in the washing machine on a gentle cycle. Insulated polyester bags need different care and attention. Wipe them down with disinfecting wipes after every use. Some people even give them the old bowling shoe treatment and spray disinfectant inside – best done in a well-ventilated area and left to sit overnight before use.

TIP: Keeping raw foods like produce and meat in their own reusable or even plastic bags will help prevent cross contamination with other grocery items and even the bag itself.

Handwash is best

Polypropylene and insulated bags. Insulated bags should be wiped with disinfectant wipes after every use, especially if used to transport raw meat product. Fill sink with warm water and soap. Then give it a good soak. Scrub then rinse clean. Hang to dry inside out.
Drying

Hang to dry polypropylene and other synthetic fabrics. Hand stretch cotton and canvas bags to shape before leaving to dry on a flat surface.

TIP: Make sure all bags are completely dry before storing for reuse. Any moisture left in the bag can lead to mold growth.
Learn more
• Visual guide on how to clean reusable shopping bags
• Video on how to clean reusable shopping bags
• Video on the environmental impact of plastic bags
• Research Study of the Potential for Cross Contamination of Food Products by Reusable Shopping Bags.

"Large numbers of bacteria were found in almost all bags and coliform bacteria in half. Escherichia coli (E. Coli) were identified in 12% of the bags and a wide range of enteric bacteria, including several opportunistic pathogens. When meat juices were added to bags and stored in the trunks of cars for two hours the number of bacteria increased 10-fold indicating the potential for bacterial growth in the bags. Hand or machine washing was found to reduce the bacteria in bags by >99.9%. These results indicate that reusable bags can play a significant role in the cross contamination of foods if not properly washed on a regular basis."
— University of Arizona. -- . Charles P. Gerba, David Williams, Ryan G. Sinclair. 2013